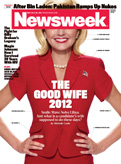 This week the cover of Newsweek made the audacious claim "We Are All Socialists Now," promoting an article which makes the argument that the United States is moving inevitably towards becoming more and more like a Eurosocialist state, even painting the unappealing picture of a future of soft and pervasive socialism combined with a continued trend towards moral conservatism. I don't think they're necessarily wrong in identifying this trend, but I think they are engaging in wishful thinking when they play up the inevitability and popularity of this development.
The underlying misunderstanding in the article and which I saw repeated several times on the Sunday morning talk shows, is that the American right and the Republican party are to some degree ready to accept socialism because so much of it got implemented by President Bush in what they described as a "conservative Republican administration," particularly in reference to the quasi-nationalization of financial institutions in the TARP bailout bill. I've seen this misconception repeated a lot over the last few years in the media and on the left, where there is this firm and inexplicable conviction that Bush was a hardcore conservative. Certainly if you asked most Republicans and anyone who is in the far right, Bush was not a conservative on social or fiscal issues. At best he was equivocal on social issues and moderate on fiscal issues. Watching from my perspective on the libertarian wing of the GOP this was always obvious, but one would think that it would be clear even to the often-muddleheaded media given the soft and often disposable nature of conservative principles in the Bush administration's policies.
Yes, Bush talked a very conservative line and pandered to conservative interest groups, but his hallmark was not following through on those promises. To anyone watching from the right this was obvious, and it was equally clear that the decision to support Bush and later McCain, who had many of the same problems, was made reluctantly in the belief that even if they compromised on some principles they were still better than the alternative. It's even a sign of how utterly opposed to creeping socialism the core of the right is that they were willing to accept Bush and McCain, suggesting that they saw the threat of socialism as so serious that they were willing to turn to almost anyone they thought could slow its progress.
Throughout his years in office there were constant examples which made clear how unconservative Bush really was and how willing he was to give lip service to principles he didn't really believe in. One classic example came during the 2004 election when there was a huge pro-life rally on the national mall. Bush, the supposed hardline social conservative born again Christian, didn't walk or drive the mile or so to go address that rally of fervent supporters. Instead he sent them a brief and generic video message which was essentially an insincere smile and meaningless thumbs-up, enough to keep their votes but at the same time showing clearly that he wasn't all that eager to be seen with a bunch of religious fanatics.
The Iraq war was another huge, glaring example. The left and the media assume that because the war involved a buildup of the military that somehow made it a conservative policy. Yet if you look at the goals and accomplishments of the war, it was an example of an almost Wilsonian foreign policy of missionary diplomacy, where American wealth and resources and military power were used primarily to spread liberal ideas and provide freedom and democracy to a foreign nation with the goal of creating a new partner in a chaotic part of the world who would help us spread the principles of liberal civilization. Bush's coalition was made up mostly of nations who still cling to idea building an international community of liberalism and those who opposed the war were mostly those nations who have moved from liberalism to socialism.
Other examples abound like the halfheartedness of Bush's attempts to reform Social Security and his No Child Left Behind initiative, but if your memory can stretch back to Bush's first term, it becomes clear that most of the really conservative policies like substantial tax cuts and such limited reduction of government programs as was undertaken originated in Congress and not in the Bush White House. Bush had things he wanted, like the Iraq War, and he was willing to give Democrats and porker Republicans almost anything to get them behind his pet programs.
There's also very little conservative about the TARP bailout. It represents an alliance between the Bush administration and their friends in the financial sector and the Democrats in Congress. While Bush may have supported it, in fact TARP was overwhelmingly opposed by Republican legislators. Only 18 Republicans in the House voted for it. 90% of Republicans voted against it. The breakdown was similar in the Senate with almost all Republicans opposing it. What's more, TARP was not the beginning of this break between the administration and Republicans and Conservatives in the grassroots and in elective office. While conservatives wholeheartedly supported Bush on issues like cutting taxes, none of his budgets passed with unanimous approval, and when his final budget was voted on in 2008 it received not one Republican vote in the House and only 2 in the Senate, passing exclusively on Democrat support. Bush signed it, demonstrating that for all practical purposes he had become a rubber stamp for the policies of the left at the same time that legislators had begun to respond to the outrage within the GOP and on the right.
Critics in the media and Democratic spokesmen are making the self-serving argument, as David Axelrod did on Meet the Press, that the beliefs of Republicans are represented by the policies of the last 8 years, or that it ought to be okay with Republicans and conservatives to pass the Stimulus Bill because Bush signed the TARP bill, or that massive spending on the Iraq War excuses massive spending on other programs. What they choose not to understand is that on these issues the vast majority of the political right and eventually even the majority of Republicans in Congress did not actually agree with the Bush administration, vocally opposed his excessive spending and wanted to break the unholy alliance with the left which made it possible. By the end of his administration the split between Bush and the right was complete and clearly represented in votes on spending legislation.
Now that Bush is gone, trying to pin his policies on Republicans who overwhelmingly opposed them and to claim that we've demonstrated a willingness to accept the socialism which is being promoted by congressional Democrats and which was rubber stamped by Bush is grossly deceptive. We may be in the minority, but those who oppose socialism and still stand for freedom and smaller government never really supported Bush, do not accept the blame for his bad policies, especially those towards the end of his term when he worked with the Democrats, and are not going to be told that they have to support Obama when he perpetuates the same mistakes and irresponsible spending which Bush engaged in.
In Bush we gave the Democrats a Republican they could live with and after 8 years it became clear that it was a mistake to make that compromise. Bush is gone and is now an object lesson, and all we have left are our principles. It's time to stand by those principles and remind the people that Obama is just repeating Bush's mistakes and that we didn't support them then and don't support them now. We are not socialists and we will not be socialists and we will continue to fight for America to be a nation which represents the principles of liberty, responsibility and prosperity on which it was founded.