Escargot is based on lettering from the cover of an early pulp novel I came across a couple of months ago. It's a strong example of a distinctive style of sign and poster lettering from the 1930, characterized by super high contrast between the weighting on the left and right sides of the character. It's a style particularly identified with art deco design, and variations of it can be found all over the place in period design, on movie marquis, electronic products and logos. It's actually similar to the base character designs of which a much more ornate variant is used in the forthcoming movie version of The Great Gatsby. The name was picked for a couple of odd reasons – the round characters look a bit like snails, and the name rhymes with art deco.
The demo version of the font can be downloaded for free. If you like it, you can download the full version with both character sets from our ONLINE STORE for just $24.
Once again we are calling on the classic early 20th century lettering work of J. M. Bergling to produce a new font with a timeless look which combines elements of text and titling styles for a versatile and elegant effect. Diomedes includes a full set of upper and lower case characters plus an interesting selection of alternative lower case characters with decorative elements. It's great for making web buttons or designing greeting cards or doing book chapter titles.

You can try the DEMO version of Diomedes for free. The demo has a limited character set, but you can still get a good feel for how the font works. Or you can ORDER the full version for only $24 online and download it right away. You now also have the option of using our new type preview tool to view custom samples of text in this font.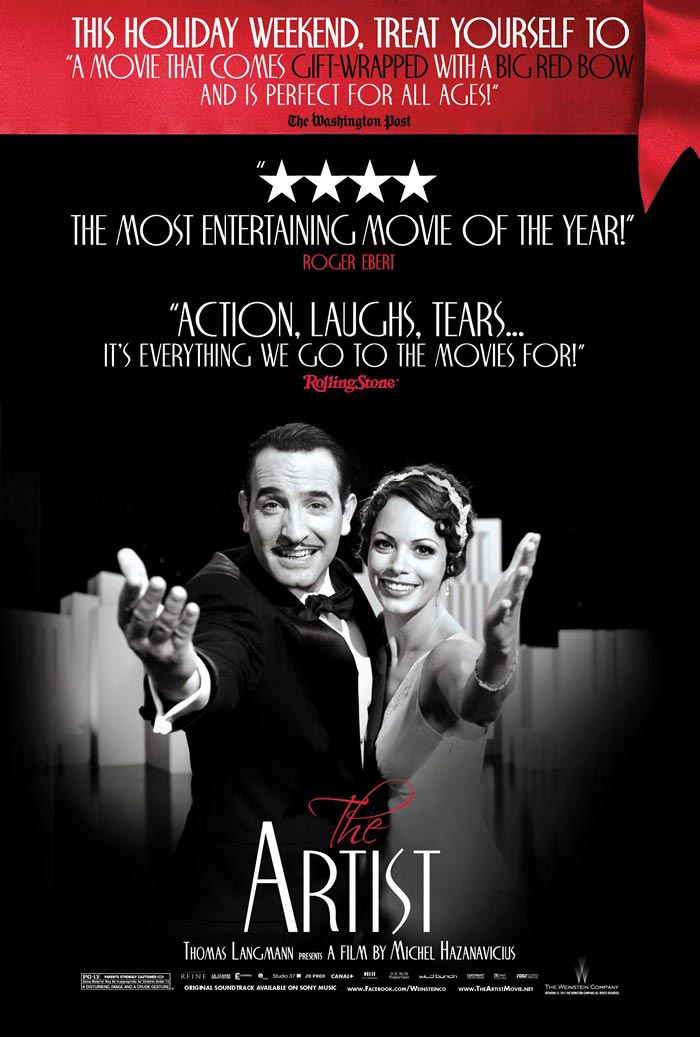 After seeing it win all sorts of Oscars I had to sneak out for a matinee of The Artist yesterday. I had already been advised that it was worth checking out for its use of vintage fonts, including some of ours, and it seemed like I shouldn't put it off any longer.
While the film was certainly enjoyable both as an unusual creative undertaking and as pure entertainment, and the performances from familiar and unfamiliar actors were very good, the use of period fonts in the film was problematic. Yes, it did feature some of our fonts and some fonts quite similar to others in our collection. It was nice to see Moravia and Amphitryon being used on posters for fictional movies starring Georg Valentin. But the irony of the inclusion of these two of our fonts was that they were largely inappropriate, especially Moravia. Both fonts fall into a category of late Art Nouveau fonts which are based on European hand lettering which would be very unlikely to have been seen on any product coming out of Hollywood, so they were sort of out of place, though not entirely out of period.  Some of the other fictional poster designs were quite well done and included very appropriate font choices.
Perhaps more troubling was the way in which the largely silent film's title cards were designed. They used a font similar to, but less interesting than our own title card font, Valentin (shown to the left). What a bizarre coincidence that the main character in the film should have the same last name as our silent film title card font, which pre-dated him by several years. Quite inexplicable. That aside, the design of the title cards was atrocious.
While they used an appropriate looking font, apparently someone in the production design department assumed that "vintage" means that proper spacing and kerning had not been invented yet. The text on the title cards was poorly justified and characters were often jammed together within a word while the words were generally spaced too far apart, plus there were obvious design flaws in the font, including consistently faulty spacing around some of the characters, most notably the "?" which was offset by a full em-space on each side whenever it was used.  Because of my peculiar interests I may have been the only audience member to find this irritating, but someone should have told the designer that in fact fonts were properly spaced and kerned in the 1920s and that justifying the alignment of short lines of text was generally not done because of the spacing irregularities which it created then and still does today.
Seeing the use of vintage fonts in The Artist gave me an idea, so we're going to be gathering together a special selection of our fonts from the silent movie era which have the appropriate art deco look for things like title cards, lobby cards and posters, and we will be releasing them in a package as our Silent Movie Fonts Collection sometime soon.
Hayao Miyazaki who brought us great animated fantasy films like Ponyo, Princess Mononoke, Howl's Moving Castle and Spirited Away the the head of Studio Ghibli in Japan and they are carrying on his tradition with films directly by his proteges. They have a deal with Disney to distribute their new films here in the United States and their latest new release is The Secret World of Arrietty, a new animated film of Mary Norton's classic novel The Borrowers, which looks like a much more creative presentation of the novel than the live action film produced in 2003.
In the Japanese and British releases of the film they use different title fonts, but when I took the kids to the mew Muppet Movie on Thanksgiving I was pleased to discover that in the trailer for the United States release the font chosen for the main titles seems to be our Rosemont font, a good choice for a fantasy movie. The movie isn't due out until February 17th. I hope that Rosemont will appear in the titles in the theatrical release, but regardless it's nice to see it in use in the trailer.
Rosemont is available for purchase for just $18 in our ONLINE STORE.

Pedro Lemos was one of the outstanding artists of the California Arts and Crafts movement of the early 20th century. He was known for his woodcuts and his graphic design work and for his books on teaching art, particularly his Applied Arts handbook which was published in 1926. It is one of the most useful works on basic techniques of graphic design and arts and crafts, made more interesting because of the contemporary perspective which it provides on the transitional period between the Art Nouveau and Art Deco periods in art.
We've produced several other small PDF booklets based on Lemos design guides, including one on bookbinding and another on Color Harmony and they were quite popular. Now we're adding another entry to that series with something a little more advanced. It's a handy guide to the process of creating art deco floral motifs, essentially by deconstructing and reconstructing floral images, starting with something very realistic and ending up with a very idealized result.