he Celts have been acclaimed for their remarkable artistic legacy – far more substantial than that of other ancient societies of Western Europe. They left behind a fascinating tradition of visual and literary art,and can be credited with the preservation of culture and literacy in Western Europe after the fall of Rome. Their imprint is strongest in the British Isles which were spared much of the chaos and cultural collapse of the so-called Dark Ages.
The Celts produced exceptional hand-decorated books and works of calligraphy. Among the most famous products of Celtic scriptoria are the Book of Kells, the Book of Durrow and the Lindisfarne Gospels, all of which have been used as sources in our celtic designs. The various forms of Celtic Uncial calligraphy preserved sophisticated writing techniques so that they could be reintroduced to Europe at the time of Charlemagne, leading to a reawakening of writing and literature.
Today, Celtic culture remains a powerful source of inspiration in music, art and design. Musicians like Clannad, The Chieftains and Lorena McKennit preserve traditional Celtic music and adapt it to modern sensibilities, while Celtic visual art influences show up in every medium and continue to shape the work of contemporary designers.
The Scriptorium's Celtic Collection is a remarkable digital archive of the design arts of the Celtic world. The collection features several CDs focusing on different aspects of the Celtic tradition in art and design. Celtic decroative designs, mythological art, religious symbolism and calligraphic lettering are preserved as high resolution (300dpi or more) graphics and unique original fonts (Postscript and TrueType) so that you can incorporate the vision of the Celts in your designs. All CDs are both MacOS and Windows compatible. All of the packages are kept in stock and can be ordered by phone from 1-512-656-8011 or ONLINE (<--Click Here) with an immediate download.
See the descriptions below for details on our Celtic packages and some samples of the fonts and graphics which are included.
THE CELTIC VISION PACKAGE
ur Celtic Vision package is our oldest and most basic collection of Celtic resources. It is oriented towards historical and traditional Celtic design, featuring fonts based on historical calligraphy, plus borders, emblems and decorative elements which are primarily geometrical and in the tradition of Celtic knotwork design. It is a great starting point for any Celtic design project. This is our original Celtic collection and is now in its fourth release, with many modifications and improvements over earlier versions.
The frames, borders and emblems in the Celtic Vision package come from a number of sources, including ancient Celtic manuscripts, Victorian renderings of classic Celtic designs, and original Celtic designs by Arts & Crafts period artists like Evelyn Paul and Louis Rhead. The Rhead and Paul borders are particularly interesting, because they effectively adapt medieval Celtic imagery to formats and page sizes which are still used today. Many of the graphics included in this package are color renderings of traditional designs. The package also includes some lovely Celtic initials by Louis Rhead.
Eight fonts are included in the Celtic Vision package. They were selected for their historical accuracy and general usefulness, while more bizarre fonts were reserved for the Celtic Fantasy package. The fonts include the Durrow font, which is an absolutely traditional rendering of Insular Minuscule calligraphy, Glendower which is based on the most common lettering in the Book of Kells, Knotwork which features fanciful characters decorated with Celtic knots, Alba which is a modernized text font based on Celtic uncial lettering, Lindisfarne which is based on a square uncial style, Stonecross which is derived from Celtic cross and gravestone inscriptions, the decorative Celtic Spirals font, and the Celtic Borders font which lets you combine key strokes to form unique, fully scalable decorative borders.
The Celtic Vision package is where you should start your journey into Celtic design. All of the images are high-resolution (300dpi) and suitable for printing, and they are licensed to you for use in your design projects. The fonts come in both Postscript and TrueType formats. The CD is fully compatible with the MacOS and all versions of Windows. The Celtic Vision CD is only $49 and can be ordered by phone from 1-512-656-8011 or ONLINE (<--Click Here). It can also be ordered in combination with our other Celtic packages at a special discount (see below).
THE CELTIC FANTASY PACKAGE
ur Celtic Fantasy package is the newest addition to our collection of Celtic resources. It is oriented towards more fanciful approaches to Celtic design and to Celtic mythology and fairy tales. It features fonts derived from the Celtic design tradition, but with unusual variations, and a great set of borders and decorations based on designs by Arthur Rackham. It also includes a selection of illustrations of Celtic mythology by several artists. It balances out the more practical contents of the Celtic Vision package with an assortment of more imaginative and unusual resources.
The frames, borders and emblems in the Celtic Vision package are mostly drawn from Arthur Rackham's illustrated collections of Irish and British folk and fairy tales. They include both color and black and white borders, frames and
emblems, including many unique floral and zoomorphic designs. The package also includes a selection of color and black and white illustrations of scenes and characters from Celtic myth and legend by artists like Rackham and J. D. Batten who illustrated Joseph Jacobs classic Celtic mythology books. The Rackham illustrations are of exceptional quality and incorporate beautiful Celtic design elements which can easily be extracted and used in your own designs.
Eight fonts are included in the Celtic Fantasy package. They were selected for their Celtic qualities and visual originality, while more mundane fonts were reserved for the Celtic Vision package. Many of them are historical, but they are based on the more fanciful historical lettering styles. The fonts include Brigidis, which is based on Rudolph Koch's interpretation of a squared uncial, Coverack, which is a heavy non-traditional uncial, Dahaut which is an modernized uncial, Morgow which is a nice spiral uncial, Teyrnon which is an elaborate spurred uncial, Padstow which is a heavy uncial with a Gallic influence, Sualtim which is based on 19th century artists rendering of Celtic lettering and Columba which is a set of decorative initials
based on characters fount in the Book of Kells. These fonts let you take Celtic design a step beyond to add some real visual impact.
The Celtic Fantasy package is a great resource for fanciful Celtic design, either on its own or in combination with the Celtic Vision package. All of the images are high-resolution (300dpi) and suitable for printing, and they are licensed to you for use in your design projects. The fonts come in both Postscript and TrueType formats. The CD is fully compatible with the MacOS and all versions of Windows. The Celtic Fantasy CD is only $49 and can be ordered by phone from 1-512-656-8011 or ONLINE
(<--Click Here). It can also be ordered in combination with our other Celtic packages at a special discount (see below).
THE BOOK OF KELLS
lso of interest to Celtophiles is our Book of Kells CD. This is a special compilation of full pages and excerpted design elements from the greatest work of Celtic illumination. This is the only legal digital source for reusable images from the Book of Kells which we know of, with extraordinary images based on turn-of-the-century lithographs of the book which are actually more vivid and in better shape than the Book of Kells is today. The package is entirely in color, and includes more than 20 full pages plus initials, emblems and borders which have been taken out and cleaned up for easy use. You can get more details on our Book of Kells package by going to its own page. Just
CLICK HERE
It can also be ordered in combination with our other Celtic packages at a special discount (see below).
ORDERING CELTIC COLLECTION CDs
You can order any of our Celtic packages by phone or through our online ordering system. To order by phone just call 1-512-656-8011. To order online with an immediate download go to ONLINE ORDERING.
If your main interest is just fonts or art, we now also offer special smaller packages. The Celtic Fonts sub-package is only $49 and includes all the fonts from both the Celtic Vision and Celtic Fantasy packages, but no art. The Celtic Art sub-package is $49 and includes just the art elements from the Celtic Vision and Celtic Fantasy CDs. These can also be ordered by phone from 1-512-656-8011 or online from ONLINE ORDERING.
You can also order the Celtic Vision and Celtic Fantasy CDs together at a special combination price of only $89, or add in the Book of Kells as well for a total of only $129 – saving $20 overall. This combination can be ordered online or by phone.
If you want to try out one of our Celtic fonts, just download the demo version of our new Owen Jones Cletic Borders font using the link below. The full version can be found on our Celtic CD or ordered individually. To try the demo just click on the image below.

In our article on the fonts in the recent silent film The Artist we identified a number of our fonts which were similar in style to the period fonts in the film and historic films of that era. It seemed logical that we collect these fonts from the 1920s into a coherent package, especially since few of them are included in any of our existing font collections.
So we went looking for fonts with the particular characteristics useful for movie titles, posters and captions of the silent film era and were surprised at how many we found. It seems that a lot of our relatively recent releases fit into that category so we were able to put together quite a substantial collection, featuring 14 fonts, including Romark, Moncrief, Odeon, Valentine, Plymouth, Gaheris, Vambrace, Ganelon, Alexandrine, Cascade ,Agravain, Langdon, Langhorne and Plakat.
Samples of the fonts can be found in the scrolling gallery above or at the text links for the specific fonts. You can order the package online at a special introductory price of just $59 from our ONLINE STORE
Alexander Rodchenko (1891–1956) was one of the premier artists of the constructivist movement in Russia. Although he was a sculptor, painter and photographer, he is most remembered for his graphic design style in book and poster design. His unique and dramatic style defined Russian popular art of the early Revolutionary period. There is a special link between Rodchenko's photographic work and his graphic designs. In his photographs he emphasized strong contrasts of light and shadow and used unusual angles and geometric shapes, producing images which you can see directly reflected in his graphic designs. Rodchenko had a unique eye for shapes and wrote of his photographic vision, "One has to take several different shots of a subject, from different points of view and in different situations, as if one examined it in the round rather than looked through the same key-hole again and again."

After studying art in Moscow and producing a body of paintings in the constructivist style, Rodchenko became part of the Productivist movement, which advocated the incorporation of art into everyday life. He applied ideas from photography and constructivism to his graphic designs for posters, books, and films. Rodchenko also combined photography and graphic arts to produce photomontages , many of them as illustrations for works by poet and playwright Vladimir Myakovsky who he worked with closely in the 1920s. He also worked on the design of the magazine LEF and on journals promoting other artists of the Constructivist movement. His designs eliminated unnecessary detail, emphasized dynamic diagonal composition, and were concerned with the placement and movement of objects in space.

His later career overlapped with the emergence of Soviet Realism and increased government regimentation of the artistic community and as his work became more abstract and expressionist he was ostracized from official artistic circles, left to work primarily as a manager and organizer of photography exhibitions for the government.

Rodchenko has has a lasting influence in poster and book design. His style was widely imitated in the West in the 1930s and even today artists like Shepard Fairey produce designs which clearly derive from Rodchenko's work.

We have produced several Constructivist style fonts in the past, and our latest is the new Rodchenko font based on his lettering from an advertisement for the Gum department store. We've also collected together a selection of Rodchenko poster and book cover designs which are included with the font if you purchase it, or which you can view here with the gallery tool.

You can try the DEMO version of Rodchenko for free. The demo has only one version of each character, in alternating positions so you can get a feel for how the font works. Or you can ORDER the full version for only $24, with the Rodchenko image gallery included, and download it right away.
One of the trendy local tattoo parlors here in Austin is True Blue Tattoo. They have a large staff of tattoo artists who do some very nice body art, including several who specialize in cool designs with calavera themes. But what I found most exciting on a recent visit to their website was their decision to feature some of our fonts prominently on their site and their signage.
They use our Buccaneer font for the text on their front page, but what I found more exciting was the use of Hesperides for the titles throughout their website. I have always thought Hesperides was one of our coolest font designs, with its unusual character forms and historic calligraphic elements. Yet it has never been a terribly popular font, certainly not as popular as I think it deserves, so it's nice to see someone else appreciating it and putting it to good use.
In stumbling around art resources on the internet I sometimes run into amazing resources and collections of art which I never expected to see online or anywhere else for that matter. But there are some conscientious archivists and academics out there who react properly when they see something rare and strange. Too many of their colleagues react defensively and want to hoard their treasures, but some few noble souls realize that unique works need to be shared and that the internet is a fantastic way to do it.
One example of this is Cornell University's Division of Rare and Manuscript Collections and their charming online museum of The Fantastic in Art and Fiction, an online collection of historical images on themes of the fantastic and magical, taken from printed works of the 18th and 19th century. There are lots of great images included from various rare books on magic and mysticism. Some of the images are fairly familiar, but what really stands out in the collection is one of the few books they have preserved all the images from, Austin de Croze's amazing Art Nouveau Calaedrier Magique. It's a remarkable work of French art nouveau graphic arts design, reminiscent of the best of the Jugendstil movement of the same period. It's a unique work which was produced in an edition of only 777 copies in 1895 making it rare enough that you'll likely never see a copy in person much less have a chance to buy and own one. So it's great that Cornell has preserved the whole thing.
Obviously, it's a calendar. Producing calendars was a common practice of the art book and magazine publishers of the art nouveau period. In fact, Munchner Jugend produced some very interesting calenders. But nothing I've seen is like this work. The integration of unique art, hand lettering, graphic decoration and fantastic themes is phenomenal. Each page is a revelation and at first look I found it hard to believe it was over 100 years old. Some of the designs are so clever and so modern looking that at first I thought it must be a hoax, but by all appearances it's the real thing. Some of the images are disturbing, some are erotic and all of them are rich fodder for the imagination.
The only thing to do if you're at all interested in art nouveau design or fantastic-themed art is to go look at it for yourself. You'll enjoy the tour. Although I suspect the pages could be in better condition, my one real complaint it's that the images aren't in higher resolution. I'm guessing the original calendar was about 4 by 11, but with the digital images at only 72dpi I found myself disappointed in the lack of zoomability. But the presentation is nice and you can get a great feel for this fascinating work. If you happen to see a copy in a rare book store, pick it up and send it to me. My birthday is just around the corner.
| | |
| --- | --- |
| In the week leading up to St. Patrick's Day it's all about Celtic design, so our featured classic font has to be something with a Celtic theme. That being the case, there's no better choice than our bold and beautiful Padstow font. It's named after the town with the most famous festival in Cornwall and has a unique Celtic look with a set of embellished initials with Celtic knotwork featured inside the character outlines. Padstow was originally released in 2004 and has been substantially revised and updated in two new editions since then, including the addition of more embellished characters It is a featured font in our Celtic Fantasypackage.You can try the DEMO version of Padswtow for free. Or you can ORDER the full version for only $24 online and download it right away. | |
Every year one of the best parts of the giant SXSW everything festival here in Austin is the Flatstock paper show brought to the Austin Convention Center by the American Poster Institute. The music and the video and the other aspects of the festival are great and way too crowded, but I find the posters and graphic arts materials at the Flatstock show way more intriguing.
It's basically just a huge hall with hundreds of booths where independent poster designers show their wares and some of the posters are really interesting examples of original design work. Many of them use interesting fonts and found art, and there's a great diversity of styles. It's a wonderland for fans of contemporary graphic design.
I've been wanting to take a booth at Flatstock to promote fonts because a lot of the posters use our fonts, but to sneak in I'd need to have some posters to sell, and selection for the show is heavily biased towards rock show posters, which isn't exactly my forte, though I've been tempted to put together a portfolio of completely bogus poster designs for shows by nonexistent bands, just to get a table at the show.  But for now I'm going to have to settle for just reviewing the show and the coolest posters in it, as I did last year and the year before.
Look for my next review this weekend, and if you happen to be in Austin for SXSW don't forget to stop by Flatstock 33 at the Austin Convention Center.  It runs from now through Sunday.
It's time for something new and strange, our new and original Monstrous font. Monstrous is a titling font which offers a striking look and special features which make it truly unique. The characters are stylized and super-bold, but what really sets the font apart is that there are two complete character sets which are complimentary. The upper-case set tapers towards the bottom of the characters and the lowercase set tapers towards the top of the characters. So if you alternate upper and lower case characters you get a great nesting effect where the characters form a continuous block effect which is really arresting. The system also extends to the numbers and punctuation. The look produced is truly monstrously cool, somewhat in the tradition of 1960s horror movie fonts or some Art Deco fonts like Semiramis.

You can try the DEMO version of Monstrous for free. The demo has only one version of each character, in alternating positions so you can get a feel for how the font works. Or you can ORDER the full version for only $24 online and download it right away.
Would you be inconvenienced if we eliminated delivery of our products on CD and only had them available for delivery by download? (Note that the increased reliance on automated delivery would keep us from having to raise prices for a while.)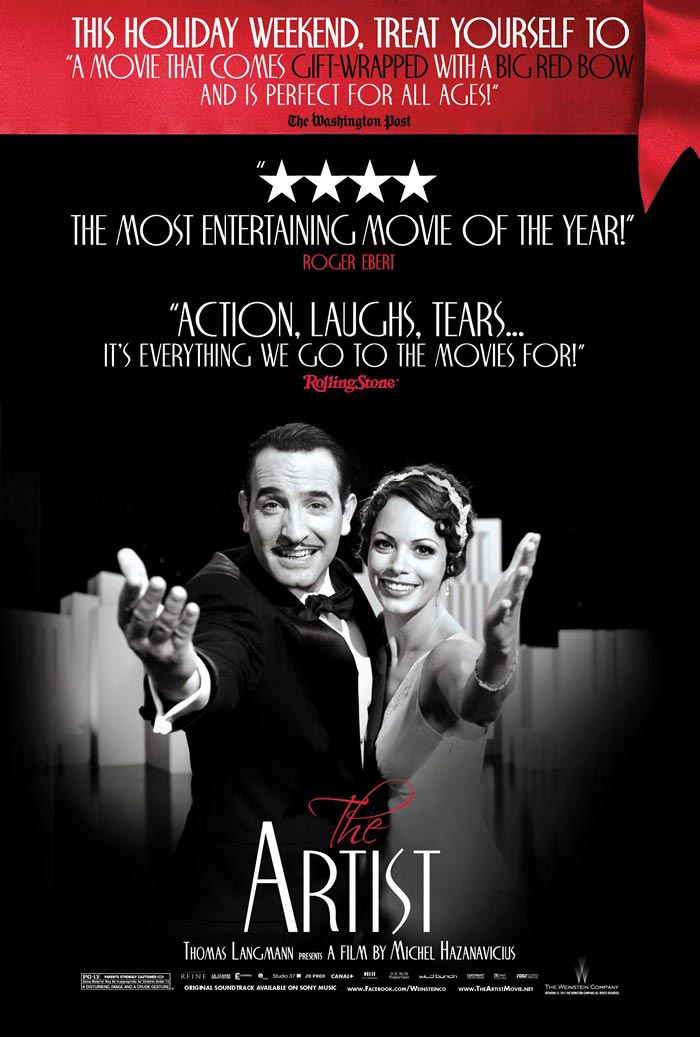 After seeing it win all sorts of Oscars I had to sneak out for a matinee of The Artist yesterday. I had already been advised that it was worth checking out for its use of vintage fonts, including some of ours, and it seemed like I shouldn't put it off any longer.
While the film was certainly enjoyable both as an unusual creative undertaking and as pure entertainment, and the performances from familiar and unfamiliar actors were very good, the use of period fonts in the film was problematic. Yes, it did feature some of our fonts and some fonts quite similar to others in our collection. It was nice to see Moravia and Amphitryon being used on posters for fictional movies starring Georg Valentin. But the irony of the inclusion of these two of our fonts was that they were largely inappropriate, especially Moravia. Both fonts fall into a category of late Art Nouveau fonts which are based on European hand lettering which would be very unlikely to have been seen on any product coming out of Hollywood, so they were sort of out of place, though not entirely out of period.  Some of the other fictional poster designs were quite well done and included very appropriate font choices.
Perhaps more troubling was the way in which the largely silent film's title cards were designed. They used a font similar to, but less interesting than our own title card font, Valentin (shown to the left). What a bizarre coincidence that the main character in the film should have the same last name as our silent film title card font, which pre-dated him by several years. Quite inexplicable. That aside, the design of the title cards was atrocious.
While they used an appropriate looking font, apparently someone in the production design department assumed that "vintage" means that proper spacing and kerning had not been invented yet. The text on the title cards was poorly justified and characters were often jammed together within a word while the words were generally spaced too far apart, plus there were obvious design flaws in the font, including consistently faulty spacing around some of the characters, most notably the "?" which was offset by a full em-space on each side whenever it was used.  Because of my peculiar interests I may have been the only audience member to find this irritating, but someone should have told the designer that in fact fonts were properly spaced and kerned in the 1920s and that justifying the alignment of short lines of text was generally not done because of the spacing irregularities which it created then and still does today.
Seeing the use of vintage fonts in The Artist gave me an idea, so we're going to be gathering together a special selection of our fonts from the silent movie era which have the appropriate art deco look for things like title cards, lobby cards and posters, and we will be releasing them in a package as our Silent Movie Fonts Collection sometime soon.